Hilton Foods Australia has unveiled its new state-of-the-art meat production facility in Heathwood, Queensland.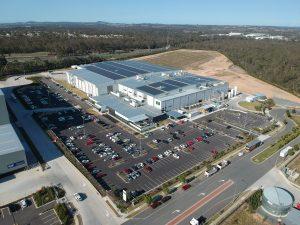 The $280 million facility will produce finished fresh meat products for more than 450 Woolworths stores.
It is expected to deliver more than 1,500 tonnes of fresh red meat to stores each week (complementing Hilton Foods Australia's existing meat processing facilities in Melbourne and Perth).
"We value our partnership with Woolworths and look forward to assisting in developing a faster and fresher supply of high-quality meat and value-added products," Hilton Foods Australia CEO Pat McEntee said.
Energy-saving features
The new development features what is claimed to be Australia's second largest rooftop photovoltaic solar installation. This is anticipated to provide around 50 per cent of the site's energy needs.
An Energy Management System of valves, controls, and meters will also help save further baseline energy demand.
A 'valued' supplier
Paul Harker, Director of Fresh Food at Woolworths, says Hilton Foods Australia is a valued supply partner processing high-quality fresh meat for Woolworths' customers across Australia.
"It's really pleasing to see our long-term supply relationship with Hilton Foods Australia underpin this important new investment and job creation in Queensland," he said.
"We're fortunate to source our fresh meat from the best Australian producers and it's important we uphold the quality of their product from paddock to plate.
"The opening of this state-of-the-art facility in Heathwood will help us deliver a consistently great fresh meat offer and improved stock availability for our Queensland customers."
Employment
Mr McEntee says his company is proud to be joining the local community in Heathwood, and to be contributing to economic growth with new employment opportunities and service contracts.
The Heathwood facility will employ around 650 Queenslanders.