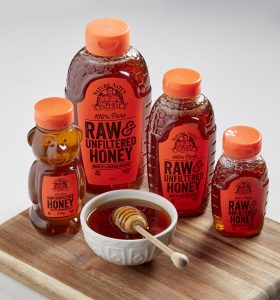 "When my wife and I married, she said we needed a hobby together. She was thinking gardening or antiques but instead I bought a beehive because I loved honey," said Nathan Sheets, CEO and Chief Steward of Nature Nate's Honey Co, on how it all began.
Recently, Mr Sheets launched Nature Nate's in Australia, after reaching success in the US.
"We have partnered with trusted Australian beekeepers to produce the best and highest quality honey," he said.
A sweet range 
The raw, unfiltered honey is supplied in a variety of sizes.
"A trend we do see is people entering the market, buying the smaller 225g bottle, like a trial size, and then move up to a larger size."
"Our 340g bear shaped bottle is the only one of its kind on Australian shelves, so we also expect that to be a hit with families."
BEE-lieve in helping others 
Mr Sheets discussed their ethos of giving back and would like to continue doing so in Australia.
"We have donated to Foodbank to be able to help provide kids breakfast," he explained.
"The plight of the Australian farmers, especially in relation to drought, seems to be a really big issue… we are not coming with a suggestion on how to fix it, we are looking for organisations or ways to come alongside and help."
In addition to this, Mr Sheets touched on the topic of bee extinction and said, "We choose to invest in research where we feel it's going to make the greatest contribution".
"We supported Cornell University, which is one of the premier research universities in the United States, and they are really focused on bee health."
Nature Nate's Honey Co range is available at Woolworths.