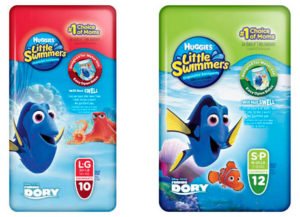 Kimberly-Clark's Huggies brand and Disney/Pixar have partnered to introduce new Finding Dory graphics to Huggies Little Swimmers Disposable Swimpants this summer.
The partnership follows the release of the Finding Dory movie earlier this year, which became the highest grossing Disney animated film of all time.
"We know how much fun water is for babies; wonderful for their physical and mental growth and development, and once mum and bub are enjoying the fun they never want to stop – especially not because of a little accident," Kimberly-Clark Australia Senior Brand Manager Catherine Buxton said.
"Huggies Little Swimmers have been specially designed for use in the water and feature a unique absorbent material, which does not swell in water, plus easy open sides, making the swim pants easy to remove when wet. Huggies Little Swimmers are one of several products to feature the much-loved Disney/Pixar characters within the baby and childcare portfolio at Kimberly-Clark Australia."
The marketing program includes a series of online social videos, fun point-of-sale to generate excitement in store, and participation at the Pregnancy, Baby & Children's shows.
Huggies Little Swimmers Disposable Pants will be on shelf at all major retailers from mid-October 2016, in time for the Finding Dory DVD launch in early November.