Kimberly-Clark has launched Huggies Clutch 'n' Go Baby Wipes, offering a stylish refillable clutch that allows parents to ensure they have baby wipes on hand.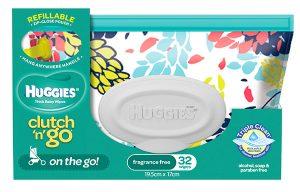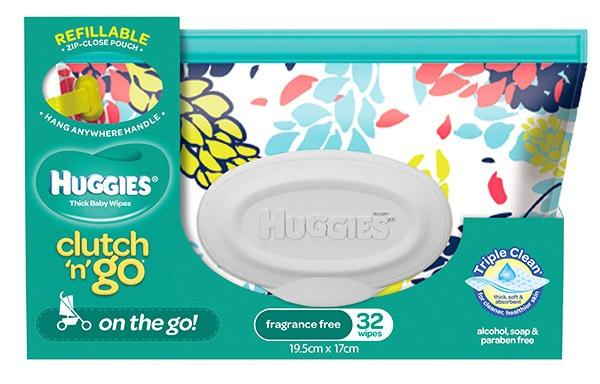 Available in three modern designs, the airtight zip-close clutch keeps baby wipes moist and includes a resealable flip-top lid on the front so consumers can easily access the wipes. The bright soft flexible packaging is slimline to easily fit in nappy bags or handbags, and comes with a separate side strap with button clasp to be easily attached to strollers.
Huggies Clutch 'n' Go is available in a 32 pack and the launch will be supported with a blogger outreach program and a social campaign via Facebook and Instagram.
The new Huggies Clutch 'n' Go Baby Wipes will be ranged initially in Coles, independent retail stores, alternative channels and pharmacies.
Also new, Huggies Nappies will be adding at least 10 per cent more nappies to its Toddler, Walker and Junior jumbo nappy boxes. This means that consumers will now receive eight extra nappies in Toddler and Walker boxes and six extra nappies in Junior jumbo nappy boxes.
"As babies generally stay in the larger nappy sizes for longer, adding extra nappies to the Toddler, Walker and Junior jumbo nappy boxes helps us give parents greater value per box," Kimberly-Clark Marketing Sector Leader – Baby & Child Care Division Irene Anast said.
All nappies in the Jumbo nappy boxes feature the unique 3D DryTouch Layer, which quickly absorbs wetness away from baby's skin and springs back perfectly dry. The nappies also feature a soft and stretchy waistband and stretchy grip tabs to comfortably fit around baby's hips and waist.
The new Toddler, Walker and Junior jumbo nappy boxes are marked clearly with a yellow bubble in the top right hand corner, and are available in Woolworths, Coles, BIG W, independents and pharmacies.
RRP: Clutch 'n' Go Baby Wipes, $5.99, Huggies Nappies with 10 per cent more, $33 per box.
Website:  www.huggies.com.au.
Stockist inquiries: 1800 810 077.