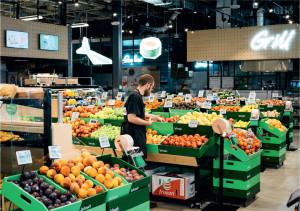 Scandinavian design agency Blink developed the new US grocery chain for Ahold USA, which also operates Stop & Shop, Giant Food, Giant Food Stores, Martin's Food Markets and Peapod stores in 13 states.
Bfresh is a new kind of affordable grocery store mixing food hall, restaurant and local convenience with integrated e-commerce. The concept has been developed for the US market and the stores are about 900sqm.
Blink founder and Managing Partner Richard Kylberg says the bfresh concept is rooted in Blink's insight that "food has become the new fashion" and is part of urban culture. "So bfresh store ambience adapts to urban rhythms and changes slightly according to the time of the day," he said. "Morning is daylight and breakfast mood, while evening has a more club-like atmosphere with pumping house music and dimmed- down lights."
Blink, which has previously worked with international top-tier clients such as Marks & Spencer, was assigned to create a full solution, including brand strategy, big idea, architecture, merchandising, visual identity and packaging design as well as communication in physical and digital channels. The assignment was carried out in 2014/2015 and the first two stores are now open in Boston, Massachusetts and Fairfield, Connecticut.
"Food-interested urban value-hunters represent one of the fastest-growing segments in US food retail," Ahold USA Fresh Formats Team Head of Concept Saskia de Jongh said.
"They are more than willing to buy food online and are very knowledgeable about food in general: origin, flavour, quality and price. In bfresh, we combine great fresh food, smart value and local convenience in new creative ways, which in turn creates value for our customers."
[vc_gallery type="image_grid" images="5431,5430,5429,5428,5427″]