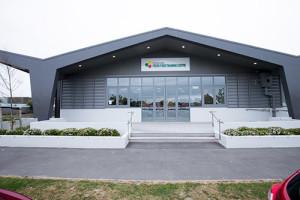 Foodstuffs South Island Fresh Foods Training Centre has been purpose built to cater for the needs of the butchery, seafood, deli and bakery departments across Foodstuffs' Pak'nSave, New World and Raeward Fresh supermarkets.
The centre will be used for both theory and practical workshops for Foodstuffs' butchery and bakery apprentices across New Zealand's South Island, as well for sampling, product development, demonstrations and conferences.
"The benefits of having our very own state-of-the-art Fresh Foods Training Centre are immense," Foodstuffs South Island General Manager of Employee and Support Services Kim DeGarnham said.
"Our butchery, seafood, bakery and deli staff are a pivotal part of the customer experience in our supermarkets. We regularly receive positive feedback from customers on the quality of their work and products.
"Whether it's a delicious bread recipe or the perfect cut of meat, this is the customer experience we aim to deliver every time a customer visits one of our stores. Providing regular training and helping staff work towards qualifications is rewarding for staff and helps us deliver consistent quality while fostering innovation and improvement."
The initial concept for a multipurpose training centre was born in 2009 and its development has been a collaborative effort across the business led by its training team.
"We're focused on innovative investment that delivers growth while serving our customers," Ms DeGarnham said. "The Fresh Foods Training Centre does just this. We're extremely pleased with the final result."
The project has also had strong support and guidance from training providers Skills4Work and Competenz to ensure the venue met all Foodstuffs' requirements.
The centre opening follows significant investment and development by Foodstuffs South Island in the region in the four years following the Canterbury earthquakes.