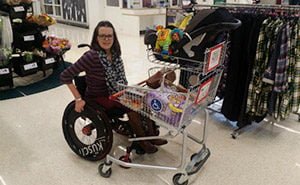 Sainsbury's has designed a prototype baby-friendly wheelchair trolley that aims to make it easier for parents with disabilities to shop at the UK supermarket chain.
A working mother with disabilities tested the prototype trolley at her local Sainsbury's in Devon and gave feedback to the manufacturer, Wanzl.
Sainsbury's Head of Customer Experience Natalie Dunn wrote on the Sainsbury's blog: "There are more than one million wheelchair users in the UK, so we know there are more mums out there who might benefit from this kind of shopping trolley, and we encourage them to contact us and test our prototype trolley so that we can get as much feedback as possible."
Once the trials are complete, Sainsbury's will make the trolleys available at stores on request, as it does with its triplet-friendly trolleys. In 2014, the supermarket provided 600 trolleys to stores across the UK with added features to make them more secure for disabled children.
Sainsbury's also provides disabled customers with wheelchairs, mobility scooters, induction loops, accessible toilets, disabled parking and extra customer-service facilities, as well as launching initiatives aimed at giving extra assistance to customers with hearing impairments and dementia.