MEDIA RELEASE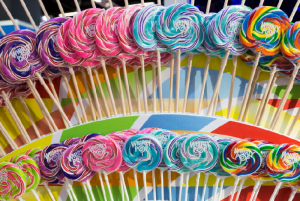 ISM Cologne, the world's "leading" trade fair for confectionery and snacks offers inspiration and innovation, exciting networking possibilities, top-class exhibitors and competent visitors. This "perfect" combination is unique around the globe. You will also find the world's "largest" offer of trademark confectionery and snacks. Discover international confectionery and snacks at the confectionery and snacks trade fair in Cologne.
Hand in hand: In co-operation with ProSweets Cologne, the international supplier trade fair for the confectionery and snacks industry, ISM Cologne represents the entire industrial value chain. From January 31 to February 03 in 2021, the trade fair duo will once again turn the cathedral city Cologne into the hotspot of the confectionery and snacks industry.
The signals of the sweets and snacks industry are set to re-start: After the successful anniversary year with 1,774 exhibitors from 76 countries and around 37,000 visitors from 146 countries, ISM, which is taking place from 31.01.-03.02.2021, aims to continue on its course of success even in these difficult times. When the early bird campaign expired at the end of May, initial positive results had already been achieved. 501 companies (previous year 566) from 55 countries have already registered so far. Whereby, the world's largest trade fair for sweets and snacks has recorded slight losses in the amount of area booked. Nevertheless, with 76 percent (previous year 86 per cent) of booked area, ISM is on a good course considering the difficult economic situation due to the Corona pandemic.
With 120 applications (previous year 130) and 9.149sqm of booked space (previous year 9,187sqm), both the number of applications from Germany and the area booked are practically unaltered. Overall, companies from 55 countries (previous year 60) have registered for ISM 2021 to-date.  In addition to Germany, Italy, Belgium, Spain, Great Britain, Poland, France, the Netherlands, Turkey, the People's Republic of China and Greece are among the top 10 countries represented the most strongly at ISM in terms of area booked. Also in the case of the pavilions, alongside numerous European countries, a host of non-European countries such as Brazil, Hong Kong and Taiwan are represented. Newcomers here include Latvia, Portugal and Thailand.
There have been reductions in the area booked particularly for the pavilions that are more strongly affected by COVID-19, however these countries do have the option to expand the space at a later date. France and Turkey on the other hand are recording an increase in the area booked of 3.3 per cent and 14 per cent respectively.
Numerous market leaders have already registered for ISM 2021 again too. These include among others: Baronie (Belgium), Canel's (Mexico), Chocolates Valor (Spain), Cloetta (the Netherlands), Colombina (Colombia), Fini Golosinas (Spain), ICAM (Italy), ION Cocoa and Chocolate Manufacturers (Greece), Kambly (Switzerland), Katjes (Germany), Kras Food Industry (Croatia), Krüger (Germany), Lambertz (Germany), Loacker (Italy), Millano (Poland), Natra Midco (Spain), Nestlé Italiana (Italy), Ragolds (Germany), Riclan (Brazil), Ricola (Switzerland), Riegelein (Germany), Ritter (Germany), Roshen (Ukraine), Rübezahl (Germany), Sölen Cikolata (Turkey), Toms Confectionery (Denmark), Trolli (Germany), Vidal Golosinas (Spain), Wawel (Poland) and WAWI-Euro (Germany).
The fact that 23 newcomers from 18 countries have already been recorded is giving the trade fair organiser cause for particular optimism. Eurobrands Lebensmittel, Famobra, Goldbek Sweets and Husar Mandelmanufaktur from Germany have confirmed their participation.
"In the course of our dialogues with the exhibitors we are not only sensing the many insecurities, but also a spirit of optimism. For example, who would have reckoned with applications from new exhibitors from Australia or Iran. This allows us to look ahead to ISM 2021 with confidence. For us it is important that we offer together with, but above all for our customers a marketplace, which supports the industry in boosting both the national and international business. The personal encounters and the professional exchange, which nothing can replace, are also key aspects. These will no doubt take place under extraordinary framework conditions this year, because the safety and health of our exhibitors and visitors are of central importance," explained Sabine Schommer, Director ISM.
Dr. Carsten Bernoth, Chief Executive Director of the German Association of the Sweets Industry e.V. (BDSI) emphasised the significance of ISM as a business platform too: "The 50th ISM in 2020 was the last international sweets trade fair before the outbreak of the COVID-19 pandemic. The medium-sized companies of the sweets industry worldwide are suffering under the effects of the pandemic. We thus hope that ISM 2021 will open the gate to better times and will strengthen the international sweets trade. Who could be more capable of achieving this than the most important international exhibition of sweets?"
Innovations at ISM 2021
As a conceptual innovation there is going to be a specialised trade section focusing on the small volume business with sweets and snacks for the first time, which is entitled "Finest Creations – hand-crafted". This exhibition section unites craft establishments, whose visitor target group comprises of confectioners, cake shops and specialised sweet shops. Exclusively micro-businesses predominantly from Germany are initially allowed to participate here. The new exhibition section will be located in Hall 3.1.
Additional digital offers
In order to additionally support the exhibitors in presenting their existing and new products, ISM is offering additional digital offers, which support the communication with the visitors. These include for example the digital New Products Database or the online press box, which help the exhibitors to present their latest products to both the visitors and the media. As a means of networking with potential business partners, ISM furthermore offers the online industry tool, Matchmaking365, which enables the exhibitors to contact business partners all year round as well as the placement of business enquiries. The tool also enables concrete meetings to be arranged at the trade fair as well as the presentation of products. In addition to the physical event, further digital services are planned at ISM 2021 for the first time. These enable among others the establishment of contacts and exchange of information online and create added value for both the exhibitors and trade visitors. Via the social media channels of the trade fair, further information can additionally be communicated to the trade visitors via Facebook and LinkedIn.
ProSweets Cologne
Good developments are also being recorded for ProSweets Cologne, which is being staged parallel. More than 100 exhibitors from all of the regularly represented countries, for example from Germany, France, the Netherlands, Austria or Italy, but also from Hong Kong, the USA and Ghana have registered in spite of the difficult times brought about by the Corona pandemic – in some cases with expanded stand areas. What's more, the trade fair has also received applications from new exhibitors from Germany, France and Turkey. Together both trade fairs form a unique constellation worldwide because they cover the entire value chain in the sweets and snacks section.
In its capacity as industry sponsor, the International Sweets and Biscuits Fair Task Force (AISM) supports ISM.
Koelnmesse – Global Competence in Food and FoodTec:
Koelnmesse is an international leader in organising food fairs and events regarding food and beverage processing. Trade fairs such as the Anuga, ISM and Anuga FoodTec are established world leaders. Koelnmesse not only organises food and food technology trade fairs in Cologne, Germany, but also in further growth markets around the globe, for example, in Brazil, China, Colombia, India, Italy, Japan, Thailand, the United States and the United Arab Emirates, which have different focuses and contents. These global activities enable us to offer our customers a network of events, which in turn grant access to different markets and thus create a basis for sustainable and stable international business.
Further information is available at: http://www.global-competence.net/food/
The next events:
THAIFEX – Anuga Asia – (Admission restricted to trade visitors only, open to the public on Saturday and Sunday), Bangkok 22.09. – 26.09.2020
euvend & coffeena – The international trade fair for vending & coffee, Cologne 29.10. – 31.10.2020
yummex Middle East – The Event for Sweets & Snacks Professionals, Dubai 03.11. – 05.11.2020