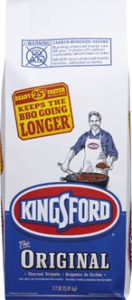 American charcoal brand Kingsford Charcoal has entered the Australian market following a launch in Sydney.
The event was hosted by Dale Vine from TV's The Block and featured mechanical bull riding, beer from Wayward Brewing and barbecue from Bovine & Swine.
Kingsford was founded in the US almost 100 years ago by Henry Ford, who used scraps from the production of the Model T to make charcoal briquettes. The charcoal is manufactured exclusively in the US from nearly one billion tonnes of repurposed sawdust each year.
The brand says it hopes to take advantage of the growing popularity of grilling, smoking and charcoal cooking in Australia, and that Kingsford Charcoal offers superior taste, ease with which it lights and longer burning time.
Kingsford Charcoal is available at Woolworths, IGA and independent supermarkets nationally in original and hickory in a variety of bag sizes.