The KitKat team has today revealed an exciting new offering that sees two of the brand's Aussie favourites, KitKat Chunky and KitKat Gold, come together to create a deliciously caramelised break.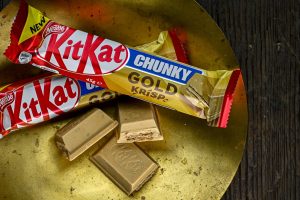 The new KitKat Chunky Gold Krisp from Nestlé is made with "golden goodness" from top to bottom, boasting three "lusciously" light layers of the iconic crisp KitKat wafer.
With golden white choc and crunchy waffle pieces at the top, finished off with a golden choc base, this new bar is a "delicious way to make any break exciting."
Nestlé Head of Marketing Confectionery Joyce Tan said: "The KitKat team were looking for their next golden nugget, and by bringing together two iconic KitKat offerings, we've definitely landed on one!
"We've seen an undeniable love develop for KitKat Gold since its launch, so by combining it with Chunky, known for its big chocolatey and crunchy wafer hit, we know this chocolate experience will be one that excites fans," Ms Tan added.
The new KitKat Chunky Gold Krisp RRP is $1.99 and is available nationwide in Coles, Woolworths, BIG W, independent and convenience stores.
Retail World Magazine loves bringing the new products, features and services click here for more.