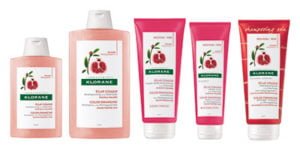 Klorane Laboratories has formulated a new range for coloured hair featuring pomegranate peel, which is well known for its colour-fixing properties.
Klorane Laboratories developed the range in line with techniques used by the large French pharmaceutical laboratory Pierre Fabre, which also uses pomegranate peel to extract tannins for use in haircare products. Tannins create a bond between the fibre and the pigment that promotes long-lasting hair colour and have historically been used in Morocco to dye fabrics.
The range is sulphate-free, silicone-free and protected by a Pierre Fabre Dermo-Cosmetics patent. It comprises an anti-fade shampoo, a colour-enhancing conditioner and a leave-in cream.
Klorane Laboratories was founded in France in 1966 and was the first dermo-cosmetic brand in Australia to receive the ECOCERT 26000 label.