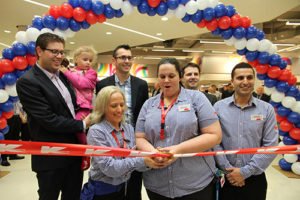 Kmart's 96th Australian store opened in Sydney this week in the renewal format that began rolling out in 2012.
A large crowd of eager shoppers waited for the doors to open at the retailer's latest store in the Top Ryde City shopping centre, 13km north-west of Sydney's CBD.
Since the first new-format store launch, Kmart management has resisted the temptation to tinker with a formula it says is a proven winner with young families.
The store's 126 team members completed the first morning's opening without fault. Of these, only two were internal Kmart applicants, with the store providing 124 new jobs for locals, most of who live in the on-site residential part of Top Ryde City or close surrounds.
Ryde Mayor Jerome Laxale welcomed Kmart, which he said was "exactly the large employer that the city needs".
Centre Manager Peter Reece said that having a Kmart in the complex fulfilled a need that had been highlighted in shopper surveys. Kmart's own research backed this up.
Kmart at Top Ryde City is not the standard Kmart square space that is usual for a new site and has been being creatively structured to fit all the departments without detriment to the retailer's offer and customer experience.
According to Mr Reece, the local demographic features a large proportion of young families, which makes the inclusion of Kmart ideal.
Store Manager Andrew Garzaniti said he was blessed to be selected as the Store Manager. A 10-year Kmart career veteran, Mr Garzaniti began as a casual at 16, and was manager at the flagship Broadway store in central Sydney in his previous role.
Thanking Kmart's head-office departments for support during the pre-opening period, he acknowledged the Kmart Marrickville store in Sydney's inner west, which had allowed his team to "take over" the premises for the eight weeks' training that prepared his group for opening day at Top Ryde City.
Kmart Head of Property, Department Stores Division Kmart and Target Ben Smith said planning for the new store began three years ago.
Mr Reece said that as part of the Kmart introduction, some existing specialty retailers in the centre now had new locations.