Following an alliance with Italy's largest winemaker, Gruppo Italiani Vini, Kollaras brings four Folonari wines to Australia.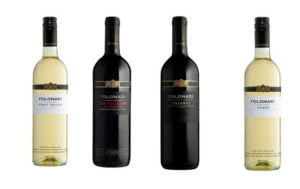 The range of wines will be available through the ALM Network with key independent liquor stores, including Cellarbrations, The Bottle O, Liquor @, IGA Liquor and Duncan's now stocking the brand.
According to Kollaras Managing Director Michael Kollaras, Australia has long had a passion for European wines.
"With 11 per cent growth for premium Italian wines we are proud to offer this impressive line-up from Folonari," he said. "Each of these wines showcase the best of Italian varieties with the diversity of region."
This impressive range comprises the classic styles Pinot Grigio, Chianti, Soave and Montepulciano d'Abruzzo. Catering to a wide variety of tastes and occasions, these wines are available at refreshingly low prices.
The current range includes Folonari Pinot Grigio (RRP $17), Folonari Chianti ($17), Folonari Soave ($14.99) and Folonari Montepulciano d'Abruzzo ($14.99).
Folonari Export Manager Roberto Baciocchi says the brand is proud to be bringing its flagship products to Australia.
"All these wines have achieved certification guaranteeing the highest–quality standards are met," he said. "This is our commitment to the quality and protection of regional characteristics. Our commitment is your guarantee of consistent quality each vintage."