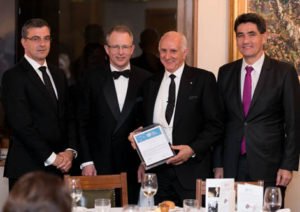 Vittoria Food & Beverage CEO Leslie Schirato has been presented with the UNAA Lifework – Individual 2016 award by the United Nations Association of Australia for his contributions to the Australian coffee, food and beverage industry.
Mr Schirato was also awarded for services to the community, philanthropic contributions to health, youth, rural areas and social welfare, and for youth and talent development in business.
Each year, the United Nations only present one award each to an individual and community in Australia. Among the distinguished guests at the black tie event were The MPs Paul Fletcher, Member for Bradfield, and Dr Geoff Lee, Member for Parramatta.
In Mr Schirato's acceptance speech he acknowledged his humble beginnings, the work ethic instilled in him by his migrant father and the extraordinary people he has worked with and met all over the world.
Mr Schirato added that Vittoria's well-known graduate program and his contributions to philanthropic organisations – such as The Curran Foundation and Oz Harvest – have given him the greatest sense of achievement.