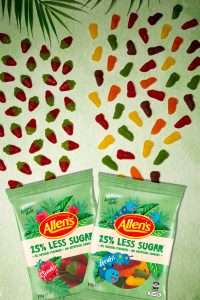 Renowned confectionery brand Allen's has unveiled its latest range lollies, made with 25 per cent less sugar than the standard Allen's jellies range.
"We know that Aussies are extremely passionate when it comes to their lollies," Nestlé Head of Marketing Confectionery, Joyce Tan said.
"Our number one focus has been on creating the best taste possible, with 25 per cent less sugar and absolutely no artificial sweeteners."
The range is said to be carefully crafted using all-natural flavours, without artificial colours or sweeteners, and comes in two variants.
Allen's Grubs come in a fruity mix of five flavours: raspberry, pineapple, apricot, blackberry and lemon. While Allen's Strawbs features berry-flavoured strawberry shapes.
"They're also guaranteed to deliver on the amazing flavour and quality people expect from us, so lolly lovers won't have to compromise on taste," Ms Tan said.