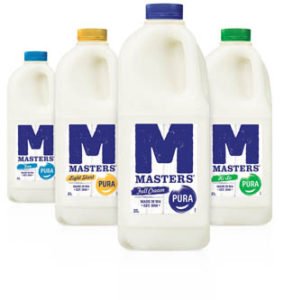 Lion Dairy & Drinks has relaunched its white milk range in Western Australia under the Masters brand.
"We listened to what the WA farmers supplying our dairy milk and WA people wanted," Lion Dairy & Drinks Managing Director Peter West said.
"Masters has a rich heritage in WA; it has been produced locally at the Bentley manufacturing site for more than 50 years, so we understand the strong community connection to the Masters brand."
Mr West said the change reflected the fact that customers didn't believe Lion's Pura White Milk was made locally, despite all fresh white milk sold under the Pura brand in WA being manufactured with milk from WA dairy farmers.
SMC Corporation Australia New Zealand's (ANZ) comprehensive range of vacuum components is focused on compressed air efficiency. Rather than spending thousands of Dollars upgrading systems, SMC can optimise your current system by replacing the existing vacuum components with efficient, state-of-the-art vacuum solutions.
Read More
The relaunch of the Masters white milk range follows a major investment by Lion of $43m over three years at its Bentley milk manufacturing site in Perth to underpin its growth in the Western Australian market.
The relaunched Masters range comprises Full Cream, Hi-Lo, Light Start and Tone variants, as well a new Extra Creamy variant crafted specifically for coffee.