Released as a summer seasonal in October 2015, Dog Days is now a permanent addition to the Little Creatures range and is the first of its beers available in can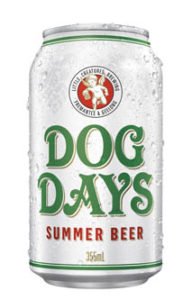 format.
"Over the last three years, people in Australia have been drinking more and more summer beer styles, including session beers and summer ales," Little Creatures Fremantle Head Brewer Russell Gosling said. "The best news is these summer styles aren't just for summer, and people are enjoying them year-round."
Describing Dog Days, Mr Gosling said: "The bright, peachy, juicy-fruit hop flavours marry nicely with the wheat malt. In terms of bitterness, it's firm, but not so intense that it overwhelms the light wheat character. That means you can expect bags of refreshment and a good whack of flavour."
The name Dog Days is based on what the ancient Romans called the hottest, days of summer. The name came about because they associated these days with the star Sirius (known as the Dog Star), the brightest star in the constellation.
Dog Days Summer Beer joins the Creatures gang of beers, is available all year round for hopheads to enjoy and will initially be available from October at Dan Murphy's, Vintage Cellars and First Choice, before ranging in other retailers.