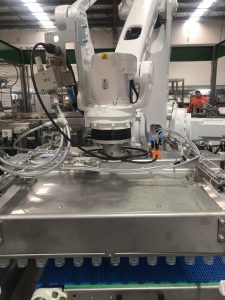 Look to support local manufacturers who have the innovation and design capability to accelerate your production rather than paying inflated international prices for your machinery.
With a strong focus on local manufacturing, SMC and HMPS recently partnered to design and develop a state-of-the-art packaging machine. In addition to saving 28% in energy consumption, it ticks all the boxes in terms of speed, accuracy, and flexibility.
Australian machine builders, HMPS partnered with SMC Corporation Australia New Zealand (ANZ) to design and custom fit a new pouch unloader cell.
Used to unload pouches of pet food from trays, this machine offers high speed on a small footprint. It was the first machine for this end user where a robot was retrofitted with a specially designed vacuum head for off-loading pouches of pet food from a retort.
Look to support local manufacturers who have the innovation and design capability to accelerate your production rather than paying inflated international prices for your machinery.
Read More
In terms of the initial brief, the customer made use an old compressor in their factory and requested an energy efficient solution which would not put strain on the compressor. Compressors are generally a large CAPEX items and they wanted to avoid replacing.  The new machine needed to fit seamlessly into their current production to avoid unnecessary downtime, costs, or any drastic changes to the rest of the plant.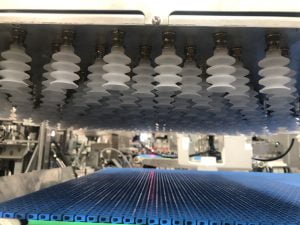 Through close collaboration, SMC and HMPS worked together to deliver an 'out-of-the-box' solution. Although the specially engineered vacuum head featured SMC's standard range of vacuum products (ZH vacuum ejectors and ZP vacuum cups), it was engineered in such a way that it was unique, multi-functional and energy efficient.
The multi bellow pads from SMC's vacuum range are made for quick release and reduced consumption. Because there is no chamber, the vacuum response time is immediate, and no air is delivered to a vacuum cup unless in use. As soon as the air shuts off, atmospheric pressure enters, and the multi bellow pads expand like a spring to assist with the easing of pressure and tension, releasing the product immediately.
In addition, HMPS made use of SMC's IP65 rated stainless steel products to withstand the wet and humid conditions in the factory whilst meeting the highest health and safety standards.
It is no secret that every millisecond counts in packaging. Through the unique combination of a new vision system and SMC's vacuum head, the customer is enjoying less waste, faster speeds, and a reduced cycle time of 15%.
The robotic cell can process 576 products per minute and is able to handle four different pouch sizes and four different gravy contents. The gravy affects the shape of the product and the performance of the vacuum head. The vacuum cups used for this application adjust to ensure constant suction when required. This same technology can be applied across an array of products in pouches such as soups, rice, biscuits etc.
About SMC
Founded over 60 years ago, SMC operates in 83 countries, employing 19,000 people across the globe. It has an R&D engineering team of 1,450 and an 8,200-strong sales force, who are experts in their field and enjoy a close working relationship with SMC's customers. To deliver automation solutions for its diverse customer base, SMC offers more than 12,000 basic products with over 700,000 variations. SMC is the world's leading pneumatics provider and has been voted for three consecutive years as one of the most innovative global companies by leading business magazine, Forbes and is listed in the FORBES Global 2000 as one of the world's largest public companies.
For more information visit smcanz.com.
For sales inquiries contact AUsales@smcanz.com or NZsales@smcanz.com.
For editorial inquiries contact Rene Rose rrose@positiv.co.com or M +61 474 476344.