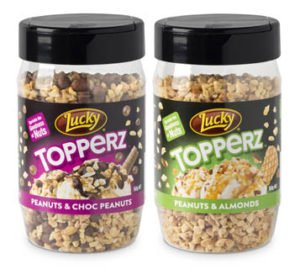 Australian cooking nuts brand Lucky has launched two new products that seek to add a nutty flavour to Australian desserts this summer.
Lucky Topperz Peanuts & Almonds and Lucky Topperz Peanuts & Choc Peanuts contain oven-roasted nuts designed to be sprinkled over desserts such as ice-cream, yoghurt, pancakes and waffles.
"Nuts have been a favourite feature on restaurant dessert bars for years and are also part of the offer of specialist ice-cream retailers," Lucky Brand Manager Natalie Wood said. "Now people can enjoy the nutty experience in their own homes every night."
The products come in 160g easy-to-use shaker jars and have an RRP of $5.49.