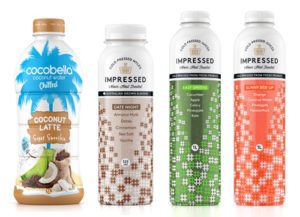 The Made Group has added to its Impressed Juices range with the release of Date Night (325ml), Easy Greens (1lt) and Sunny Side Up (1lt).
The new juices will join Impressed's range: Summer Greens, The Works, Ginger Ninja and Berry Beets. Impressed Juices are cold pressed from fresh produce and never heat-treated. Each juice is produced with Australian-grown fresh fruit, vegetables, herbs or almonds and are pressed and bottled locally.
The new juices are available now in Woolworths supermarkets and selected independent retailers. The 325ml varieties retail for $3.49 and the 1lt bottles have an RRP of $5.99.
The Made Group is also expanding its Cocobella coconut water range, with the launch of Coconut Latte Super Smoothie, which will retail for $5.99 in a 1lt variety.