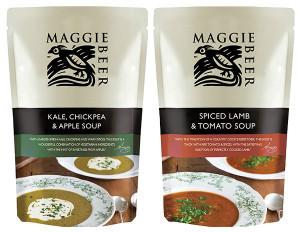 Back on-shelf in time for the cooler weather, Maggie's ready-to-go soup range now include Spiced Lamb & Tomato and Kale, Chickpea & Apple.
The two new flavours join the existing range of Minestrone, Pea & Ham and Sweet Potato, Pear & Ginger.
Maggie Beer says the soups are perfect for winter.
"To me, just the mention of comfort food conjures up bowls of steaming hot soup, ready to warm from the inside out," Ms Beer said. "With the added indulgence of thick cream, mascarpone cheese or crème fraiche, they are very much a light meal in themselves, ready to simply heat and serve with good crusty bread."