Developed to help protect children's health, Protech Kids Face Masks offer a smaller size for smaller faces, ensuring a "comfortable and protective fit".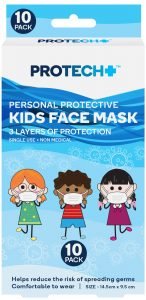 Said to be lightweight, hypoallergenic, and breathable, Protech single-use masks have three layers to effectively reduce the risk of spreading germs, Chemcorp International Marketing Manager Erica Galea says.
"Perfect for use while on public transport or in crowded places," she said.
A Protech Kids Face Mask 10-pack is available (RRP $8.99).
Compressed air comes at a significant cost to companies operating in the food, beverage, and packaging industries. In fact, in many areas of production, more than 20% of compressed air energy can be attributed to waste.
Read More