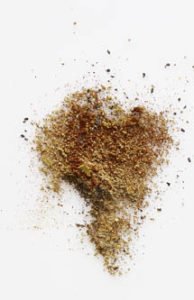 Global flavour specialist McCormick & Company has released its annual Flavour Forecast, identifying the cutting-edge flavours that it predicts will inspire professional and home chefs in the year ahead.
The annual report has previously predicted the emergence of flavours including chipotle chillies, coconut water and peri-peri sauce, which are now found in restaurants, on retail shelves and in kitchen cabinets.
McCormick Culinary Manager Simone Fergie says baharat – a fragrant, eastern Mediterranean blend of spices such as cumin, cardamom, black pepper and nutmeg, is expected to grow in popularity over the next 12 months.
She suggests sprinkling baharat over warm, seasonal soups, stirring it into tomato-based sauces, or adding it to a favourite chicken dish.
The five flavour trends McCormick has identified for 2017 are:
Breakfast options with big and global flavours – McCormick says these are being sought after by a generation of flavour adventurists not content with the same boring bowl. Examples include warm, sweet congee or a Middle Eastern-inspired breakfast hash topped with a spicy skhug sauce (a complex hot sauce made with Thai bird's eye chillies, cumin, cardamom, coriander, garlic, parsley, olive oil and lemon juice).
Flat-out grilling – the plancha (a thick, flat slab of cast iron from Spain, France's Basque region and Mexico) is gaining popularity around the world for creating a sizzling, smoky sear and flavour crust. Grillers can use the plancha with meats, seafood and vegetables, paired with bold sauces, rubs and glazes. Examples include Espelette Pepper-Rubbed Steak a la Plancha – a zesty, Mediterranean-herb rub that enhances steak grilled on the plancha.
Egg yolks – poached, fried or cured. McCormick says chefs are pairing these with a range of spices, herbs and sauces on lunch and dinner menus. Examples include Mediterranean Vegetable Shakshuka – sunny-side-up egg yolks simmered in a tomato and vegetable sauce.
Modern Med – melding eastern Mediterranean ingredients with western European classics. McCormick says examples include Persian Minestrone ("Persian Ash-e reshteh, a thick, hearty soup made with beans, herbs, turmeric and flat noodles, meets Italian minestrone").
Sweet on pepper – with an upfront bite and lingering sensation, peppercorns are finally capturing the spotlight, McCormick says, with their cedar and citrus notes pairing perfectly with up-and-coming naturally sweet ingredients such as dates and dragon fruit. Examples include Dragon Fruit and Strawberry 'Poke' with Pepper Syrup – fresh strawberry and diced dragon fruit salad atop a dollop of peppered whipped cream and crispy wontons.