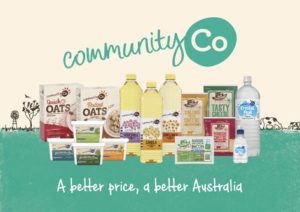 Shoppers at IGA stores will be offered "brand-quality products at compelling everyday low prices" with the new private-label Community Co range available in stores from December, according to wholesaler Metcash.
The new range is so named because it will also make a positive contribution to the community, with a donation from the sale of every product from the mid-tier brand going towards community projects.
"We've listened to shoppers and with these insights we've developed a truly unique range that provides a genuine point of difference for IGA stores," Metcash CEO Supermarkets and Convenience Steven Cain said.
"Community Co will provide better prices for shoppers. IGA retailers are famous for their commitment and contribution to their local communities, and the Community Co brand was developed with this in mind."
Mr Cain says the range is anchored in Australian values and synonymous with independent retailing, which is evident through all elements of the brand, from product sourcing to the bespoke packaging designs.
"We've worked closely with our retailers to develop Community Co and are confident it'll be a win for Australian shoppers and for our retailer partners who'll be able to access a greater share of the private-label market," he said.
Community Co will launch 100 products within the next six months, with the first phase, including Australian bacon, cheese, oats, spreads, oils and bottled water, to be released in December.
Mr Cain says the brand has been developed with ethical-sourcing practices in mind – for example, while the majority of bacon in Australian supermarkets is sourced from overseas pork, the Community Co range offers bacon made from 100 per cent Australian pork. He adds that Community Co also goes that extra step to ensure pigs are sow-stall free.