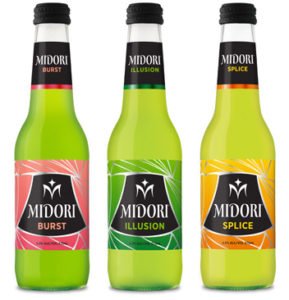 Midori's ready-to-drink portfolio – including Illusion, Splice and Burst 275ml RTDs – has been refreshed to appeal to a new generation of drinkers.
Midori Brand Manager Natalie Waser says the new design represents slices of Midori's distinct Japanese melons, the "rich and succulent flavor" of the yubari melon and the "fresh and vibrant taste" of the muskmelon.
"It was developed in response to new-generation consumer insights and, as well as improving the brand's shelf stand-out, it's tested really positively with our target market of 18-29-year-old males and females looking for a drink to suit those low-energy, relaxed drinking occasions," she said.
Australia, a key market for the brand has been the second highest per-capita consumption of Midori (IWSR 2016, Midori Melon Liqueur volume per capita), ahead of New Zealand, the UK and the US.
As a leading spirits brand within the Beam Suntory premium spirits range, Midori is distributed in Australia by Coca-Cola Amatil as part of a long-term sales and distribution agreement, which also includes the manufacture of the full ready-to-drink portfolio.