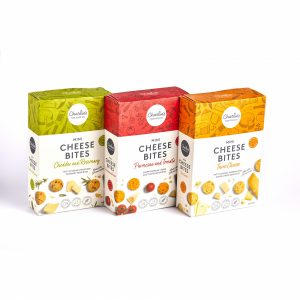 Charlie's Fine Food Co. is saying "cheese!" at its latest range.
The team have launched Charlie's Fine Food Co. – Mini Cheese Bites, including three flavours, that will make great use in an entertaining platter.
It's made using 20% Australian cheese.
"Mini Cheese Bites are more than just biscuits," says Charlie's Founder, Jacky Magid.
"They're crunchy, melt-in-your-mouth bites of cheesy deliciousness.
"They're worth keeping on-hand in the pantry for when guests pop over for a glass of bubbles, wine or beer.
"Charlie's Mini Cheese Bites can be devoured with a scoop of dip, a chuck of cheese or with condiments. You can even eat them by themselves."
The three flavours include Three Cheeses; Cheddar & Rosemary; and Parmesan and Tomato.
"All of our products are made using premium ingredients and the new Mini Cheese Bites range draws on our 25 years' history of making seriously delicious products with high-quality ingredients," adds Ms Magid.
Charlie's Mini Cheese Bites are now available at Woolworths stores nationally. Visit charliesfinefoodco.com for more information.