Media Release
Montague announce new Nutrition Ambassador – Accredited Practising Dietitian and Accredited Nutritionist Joel Feren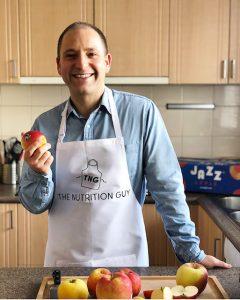 In an effort to encourage Australian's to maintain a healthy and nutritionally balanced diet, Australian family-owned fresh produce company Montague have announced a new Nutritional Ambassador for their apples; Accredited Practicing Dietitian and Accredited Nutritionist Joel Feren.
With a background in the biomedical sciences, a Masters in Dietics and years of consulting under his belt, Joel is a trusted voice on food and health and a familiar face from television programs such as My Market Kitchen, as well as his Instagram channel @the_nutritionguy. Joel will help the team at Montague share the messaging that eating seasonal, locally produced fresh foods rich in nutrients, such as apples, leads to optimal health.  A feature of good health is immunity.
Joel's food philosophy is that any dish can be made more nutritious with his set of tips and tricks, and his ambassador role with Montague will see him share nutritional facts for all Montague apples including Australia's favourite JAZZ™ apple, along with envy™,  yello™, Ambrosia™, Smitten® and eve™, creating healthy recipes to make the most of each apple's natural flavour and texture.
Joel's initial recipes will utilise the first autumn harvest of JAZZ™ apples, now available in retailers.
"This crop of JAZZ™ apples is one of the best ever produced with a fine skin, sweet flavour, dense and crunchy white flesh", said Scott Montague, third generation apple producer and Managing Director at Montague who are the exclusive national distributors of JAZZ™ apples.  "This is an apple that looks fantastic, stores well, provides a longer shelf-life and a crunchy, consistent eating experience".
The 2020 JAZZ™ apple autumn harvest will be available to all Australians from Woolworths, Coles, Costco, quality independent stores, green grocers and markets from now until November or until the harvest sells out.
Source: Hatching Communications.