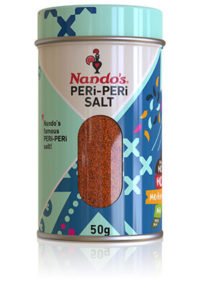 Nando's Australia has launched a new-look-and-taste version of its Peri-Peri Salt.
The company says the new formulation is now the same recipe as that used in Nando's restaurants and features Peri-Peri Chilli – a unique African bird's-eye chilli grown in southern Africa, the birthplace of Nando's.
"Nando's Peri-Peri Salt has long been sprinkled on chips in our restaurants, but now that it's available in supermarkets, we hope shoppers will have great fun experimenting with how else they can give their food a flavour kick," Nando's Grocery Australia Marketing Manager Stefani Dethan said.
The product now comes in a pale-blue 50g tin (RRP $3.99).
The launch will be accompanied by a Facebook campaign and supported with trade-marketing POS materials.
Nando's Peri-Peri range also includes sauces, marinades, rubs, 'PERinaise', potato chips and hummus dip.