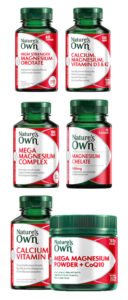 Nature's Own has released a range of six improved bone and muscle formulas, which the brand says have been reformulated to help consumers maintain optimum mobility.
The new range will comprise Nature's Own Calcium, Magnesium, Vitamin D3 & K2, Nature's Own High Strength Magnesium Orotate, Nature's Own Magnesium Chelate, Nature's Own Mega Magnesium Powder + COQ10, Nature's Own Mega Magnesium Complex and Nature's Own Calcium + Vitamin D3.
General Manager at Sanofi Consumer Healthcare (makers of Nature's Own), Brett Charlton says the range review occurred in response to a growing consumer need for more effective ingredients and convenient formats for the management of healthy muscles and bones.
"With mobility conditions a key health concern for many Australians, it is important that consumers are offered the right balance and strength of essential nutrients to promote strong bones and muscles," he said.
"We are thrilled to offer consumers a better quality experience and more efficient combinations, including a first-to-market product, with the optimised Nature's Own Bone and Muscle range."
To support the launch, Nature's Own are offering consumers a free $200 Active Pass with every pack purchased between September 5 and November 13, 2016. Eligible consumers are entitled to one complimentary personal training session, two weeks' free outdoor training, two yoga or Pilates sessions and a meditation class.