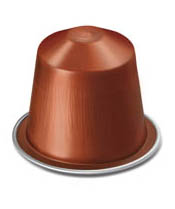 Nespresso has introduced Envivo Lungo, or 'live long' in Italian, as a new permanent addition to its range of 23 Grand Cru coffees.
The company says Envivo Lungo is the most intense flavour in the Nespresso Lungo range, with an intensity level of nine, and will delight those looking for a long, full-bodied cup of coffee in the morning.
"We carefully crafted Envivo Lungo with a blend of distinctive Arabica from India and a high proportion of washed Robusta coffee beans from Mexico," Nespresso Head of Coffee Development Alexis Rodriguez said. "The result is an intense coffee, with roasted notes and rich scents reminiscent of aromatic woods and gingerbread."
"We know that Australians have a love for more intense coffees and, unlike Europeans, prefer their coffee with milk," Nespresso Coffee Ambassador Mitch Monaghan said. "This new Grand Cru satisfies this trend. By adding milk, Envivo Lungo develops sweet, salted toffee notes for a deliciously rich and full-bodied start to the day."
Envivo Lungo Grand Cru will be available at an RRP of $7.30 for a sleeve of 10 capsules.
Look to support local manufacturers who have the innovation and design capability to accelerate your production rather than paying inflated international prices for your machinery.
Read More