Nestlé has launched a new 'cook from raw' plant-based burger across Australia this week.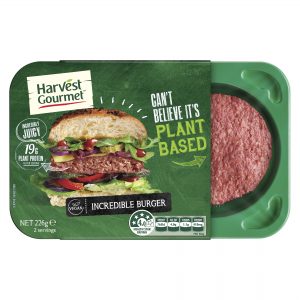 Available exclusively at Woolworths, the Harvest Gourmet Incredible Burger blends natural plant extracts – beetroot, carrot, and capsicum, and is prepared using proprietary techniques that is said to imitate the juicy texture of a beef burger. Chopped coconut oil is used to give the burger its marbled fat appearance.
"These new burgers don't compromise on flavour, texture or cooking experience," Nestlé Marketing Manager Foods Tracy Hardwick said
"They underline Nestlé's increased focus on tasty, authentic plant-based food. We believe this trend is here to stay, as consumers look at different ways to enjoy and balance their protein intake and eat more meat-free meals."
Look to support local manufacturers who have the innovation and design capability to accelerate your production rather than paying inflated international prices for your machinery.
Read More
The Incredible Burger is vegan, has a four-star health rating and retails at $12.00 for two burgers.