Gander, an app designed to help consumers save money at the supermarket and combat food wastage, is launching in Australia today.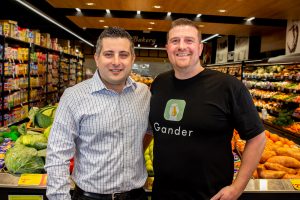 Australians will have the ability to check what's on sale in their local supermarkets and reduce waste within their community.
Gander has partnered with Spano's IGA and Country Grocers to bring this sustainable solution to life in stores in Queensland and Victoria. These supermarket groups have become the first retailers in the country to embrace Gander's technology.
"Typically, retailers have to rely on shoppers sporadically finding a markdown in store while preoccupied with their shopping," says Gander Australia co-founder Tim Brown. "Therefore, on average, less than half of the food marked down in stores is sold, leaving the rest to become surplus.
"For retailers, reduced food can cost them up to 7% of their turnover. At a time when margins are being squeezed, this is revenue sitting on their shelves that local shoppers would love to buy, they just don't know it is there."
How it works
Via a one-time integration with the retailer's POS system, Gander showcases a live and accurate feed of what's available in store on the app.
As soon as a product is stickered in store with a new markdown label, it appears on the Gander app for consumers to browse through and search for.
Similarly, when that item is sold or no longer available, it's automatically removed from the app, providing shoppers with an instant feed of all markdowns on the shelves at any time.
"Gander puts this information in the hands of significantly more motivated shoppers, which in turn will increase footfall and sales of reduced product, growing revenue otherwise lost to waste," says Mr Brown.
"According to recent analysis conducted by UBS, the average Australian grocery bill increased year on year by 9.6%. Gander will provide Australians with access to quality food, ready to be consumed or frozen for a later date, discounted up to 75% in order to save money, while allowing them to feel they are positively addressing the problem of food wastage. A win, win."
Past success
Gander first launched in the UK in 2019. The company says the app has already proved a success in over 500 stores in the UK, saving 25 million food items from becoming waste in-store.
Gander adds that it is now committed to addressing Australia's food waste problem and alleviating pressure on households due to rising living costs.
The Gander app is available for download on iOS and Android devices.