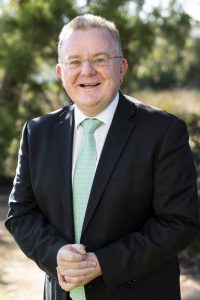 The office of the Australian Small Business and Family Enterprise Ombudsman has welcomed the appointment of the Honorable Bruce Billson.
Mr Billson will commence his five-year term as Ombudsman on 11 March, replacing inaugural Australian Small Business and Family Enterprise Ombudsman Kate Carnell AO.
Ms Carnell welcomed the appointment, describing the former Small Business Minister as a champion of the sector.
"Having played an integral role in the establishment of the Ombudsman's office, Mr Billson is well positioned to carry the torch," Ms Carnell says.
"He is highly regarded by the small business community and I am confident he will be an effective advocate for the sector."
Mr Billson thanked the outgoing Ombudsman Ms Carnell for her unwavering commitment to the small business sector over the past five years.
"Ms Carnell leaves a lasting legacy, as a fierce advocate for Australian small businesses and a strong foundation to build on," Mr Billson says.
"The pandemic has been punishing for many of our small and family businesses, which will need a supportive environment to help lead the nation into recovery.
"All of my efforts will go towards putting the wind in the sails of small business and helping to energise enterprise to Australia's benefit.
"Most importantly, I'll be focused on ensuring the small business community has the support and confidence they need to survive and thrive well beyond the COVID crisis."
The Australian Retailers Association (ARA) has welcomed the appointment of the Hon Bruce Billson.
ARA CEO Paul Zahra said Mr Billson's wealth of experience within small business will position him as a powerful advocate for the industry.
"Small businesses are the engine room of Australia's economy and our retail sector. The pandemic has increased pressure on many smaller operators and now, more than ever, they need a strong voice to ensure they're well placed to thrive in the Covid recovery," Mr Zahra said.
"As a former Small Business Minister, Mr Billson comes to the role with a great understanding of the needs within this space. We look forward to working with him on the challenges and opportunities facing the industry and ensuring small businesses have the support they need to grow and prosper.
"We are grateful to Kate Carnell for her service to the small business community over the past five years and helping to raise the visibility of small business owners and their concerns. We worked with Ms Carnell on a number of issues that emerged during the Covid pandemic. We look forward to continuing that strong relationship with Mr Billson and his team in the years ahead."
The Australian Lottery and Newsagents Association (ALNA) CEO Ben Kearney said the Association looked forward to a productive and successful working relationship with Mr Bilson over the next five years.
"Given his history as a small business owner, small business minister and his post with the Franchise Council, Mr Bilson brings with him exactly the kind of knowledge and experience that we think will serve ALNAs members particularly well," said Mr Kearney.
"We have worked well with Mr Bilson in both Opposition and as Small Business Minister and Mr Bilson is highly regarded as an advocate for small business, so we're confident he understands that small businesses like newsagents are the lifeblood of the Australian economy.
"After the challenges of the pandemic on our member businesses, we are certainly looking forward to working with Mr Bilson in his new capacity and to seeing thriving businesses, with a renewed sense of confidence in the future."
Mr Kearney thanked outgoing Ombudsman Kate Carnell AO for her tireless efforts over the past five years and said she would be missed.
"Ms Carnell was a fearless campaigner and champion for all small businesses in Australia and is leaving a great legacy of meaningful change," he said.
"Awareness of the importance of a healthy small business sector in the broader community reached a high point during her time.
"On a personal level, I really appreciated her counsel on issues impacting our members and her considered approach to working on solutions."
Mr Kearney said he looked forward to meeting with Mr Bilson soon.