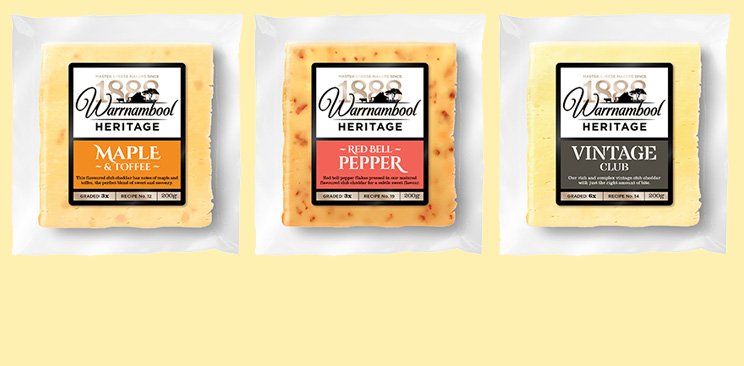 Warrnambool Cheese & Butter (WCB) has launched a new flavoured range of cheddar cheeses.
The new Warrnambool Heritage flavours are Vintage Cheddar, Lightly Smoked Cheddar, Red Bell Pepper Cheddar and Maple & Toffee Cheddar.
"With the new Heritage flavoured range, we looked at how we could use different sweet, salty, spicy and creamy flavours to challenge the traditional cheddar and create flavour explosions in every mouthful," said WCB Product Manager Philip Forbes-Pryer, who led the development of the new range.
"All of the cheeses have their own distinctive and exciting flavours while still maintaining the high quality of the Warrnambool Heritage brand," he added, "so we can't wait to hear how customers find the newest additions to their cheese platters."
WCB claims to be the oldest dairy processor in Australia, dating back 125 years, and is one of the largest employers based in south-west Victoria, with more than 650 staff across sites in Allansford (near Warrnambool), Port Melbourne and Mount Gambier (SA).
The Warrnambool Heritage range is available in 200g blocks. RRP $6.99.