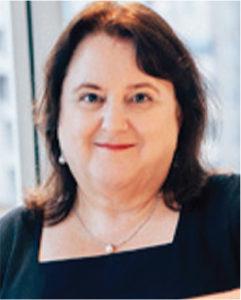 Kathryn Edghill
Lead Partner
Kathryn is the lead partner of the firm's Australian Competition Law practice with more than 25 years' experience specialising in competition law with particular emphasis on the anti-competitive- conduct, consumer- protection and franchising provisions of the Competition and Consumer Act.
About Bird & Bird
Bird & Bird is one of the world's leading international law firms advising industries where technology, regulation and intellectual property are driving change.
With a strong Australian presence, its clients enjoy global reach across practice areas including corporate and commercial, intellectual property, technology and communications, media and e-commerce, competition and consumer, employment, litigation, and infrastructure. More information is available at www.twobirds.com.

Country-of-origin food labelling reform is set to affect the retail sector, with new labelling requirements likely to come into force from July 1, 2016.
On March 31, 2016, federal, state and territory ministers with responsibility for consumer affairs met and agreed to the federal Government's preferred proposal for country-of-origin food labelling reform. The agreement is the result of years of debate and consultation with industry and consumer groups.
Food businesses will have two years from the commencement date to change labels to the new format.
Currently, under the Australia New Zealand Food Standards code (the code), packaged food (including beverages) must carry a statement identifying either:
The country where the food was made, produced or grown.
The country where the food was manufactured or packaged and that the food is a mix of ingredients imported into that country or a mix of local and imported ingredients.
The country of origin of the ingredients can also be stated.
For unpackaged food, such as fresh and processed fruit, vegetables, fish and meat, the code currently requires that the country of origin of the food must be identified (by way of a sign near the food, or stickers on the food), or, if the food is a mix of foods from different countries, the retailer can state each country of origin or that the food is a mix of local and/or imported foods.
While the code sets out the requirements for a country-of-origin statement, the criteria used for determining which statement to use (eg, 'product of ' or 'made in') is currently set out in the Australian Consumer Law (which is Schedule 2 to the Competition and Consumer Act 2010).
The new country-of-origin requirement will be moved from the code and amended and enacted through a new mandatory information standard under Australian Consumer Law. The new requirements will only apply to food (and beverages), which is offered for retail sale in Australia. The requirements will not apply to food sold in cafés, restaurants, takeaway outlets or schools.
The scheme will see the continuation of mandatory country-of-origin labelling requirements. In addition to a statement about where the food was produced, grown, made or packaged, food will also need to carry the kangaroo symbol and an indication of the proportion of Australian ingredients by weight by way of a statement and a bar graph. The new scheme will also see clearer rules around when food labels can carry 'made in' or 'packed in' statements.
Details of the key changes
The information standard will categorise 'non-priority' food as being seasonings, tea and coffee, alcoholic beverages, biscuits and snack food, bottled water, soft drinks, sports drinks and confectionary, etc. They will only require a text statement of country-of- origin on labelling.
All other food products are considered 'priority' foods and, as such, must adhere to the new requirements. For foods that claim to be Australian made, grown or produced, the label must display a kangaroo-in-a-triangle logo, a bar chart indicating the proportion of Australian ingredients and a corresponding text box.
For goods to be considered 'made' in Australia, the food must undergo its last substantial transformation in Australia. For example, cheese made from imported milk could be labelled 'made in Australia from X% Australian ingredients', but imported cheese that is sliced or shredded overseas but packed for resale in Australia could not be.
Claims of 'grown in' or 'produced in' are premium claims, which mean that all ingredients are Australian and all major processing occurred in Australia.
New criteria will also be introduced for food that is packed in Australia. For food grown overseas but packed in Australia, the label must show the bar chart empty and text underneath. If goods are packed using Australian and overseas food, the scale can be used to display what percentage of the food contained is Australian. Where products are mixed (from local and imported ingredients), it will be at the manufacturer's discretion as to whether the origin of the imported ingredients is disclosed.
Where food sources vary, particularly for seasonal produce which can mean
a product that is mostly Australian for part of the year, but can be imported at other times when ingredients are out of season, the new requirements will allow manufacturers to place an average proportion of Australian ingredients to be specified. The text must also provide consumers with a method for gaining further information, such as a website or phone number.
The new information standard will continue to operate alongside the code and the importation laws found in the Commerce (Trade Descriptions) Act 1905.
How will it affect your business?
Most food manufacturers and retailers will need to update their packaging and labelling to ensure they are compliant with the changes. Food businesses should also use the reform as an opportunity to ensure that any claims made about their food products are substantiated, and provide consumers with the most accurate information.
In the next few months, the Government will work on: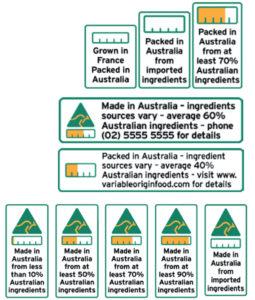 The registration, tabling and passing of changes to the Australian Consumer Law legislation including the new information standard.
Finalisation of an online tool, style guide and other resources to help businesses determine which labels to use, and to download label artwork.
A national information campaign to inform consumers and businesses about the reforms.