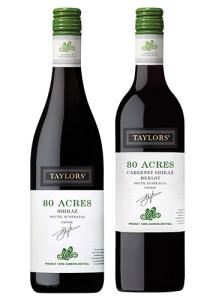 Family owned Australian winery Taylors has undertaken a full packaging refresh of its landmark 80 Acres range – the world's first 100 per cent carbon neutral wine – launched by the winery in 2007.
The new packaging and labelling features more prominently Taylors' commitment to sustainable winemaking, which includes contributing five per cent of its profits from the 80 Acres range to environmental initiatives.
The newly labelled bottles recently hit shelves nationally and retailers are already reporting a positive uptake, says Taylors Wines' third generation Managing Director Mitchell Taylor.
"My family has always been very dedicated to maintaining the land we source our fruit from, so with this packaging update, we wanted to make it clear to Australian wine drinkers the positive impact buying a bottle of 80 Acres can have on the environment," he said.
"We are committed to upholding our environmental credentials, so have made it clear on the label that five per cent of profits from the 80 Acres range go to support sustainable environmental initiatives."
Taylors' pledge to the environment goes beyond just the eco-messaging on the bottle, with Collotype premium sustainable labels made from recycled and alternative fibres used specifically for the 80 Acres range. The paper is made in a completely carbon neutral process and for every 1,000 labels printed, one tree is planted through the Trees for Land project.
To showcase the environmental cues while standing out on the crowded shelf space, the Stelvin screw cap has changed from Taylors' signature black to a bold leaf green, with messaging around the neck featuring Taylors' signature seahorse emblem.
For the past six years, Taylors Wines has worked closely on the 80 Acres project with Carbon Neutral, an Australian not-for-profit organisation that works to reduce and offset greenhouse gas emissions and support revegetation projects. Taylors will continue to work with Carbon Neutral, alongside other environmental projects, to completely offset the carbons emitted in the winemaking process and consumption of the 80 Acres range.