Protech is known for providing Australians with everyday health essentials and has done so since 1998.
Over the past month in response to COVID-19, the brand has expanded its range, releasing their new line-up, which includes an Australian-made hand sanitiser; and a soap bar, with antibacterial Australian Tea Tree Oil, to leave hands feeling refreshed.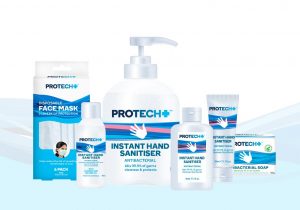 The full range includes a variety of hand sanitisers, an antibacterial soap, disposable face masks, and protective latex gloves. All products in the range are available online from protechplus.com.au as well as via independent pharmacies.
"Our Protech+ range has been around since 1998 and has, over the years, included similar products," says Chemcorp International General Manager, Jodie Phillips.
"The events of 2020 provided the opportunity to revive and refresh the brand, offering our regular retail partners, and our existing customers, an ongoing supply of what we believe will be essentials moving beyond the current health situation.
"Protech is already a trusted brand and our retail partners are looking for this, not just a product that is in and out of market. We're also excited to support Australia Tea Tree growers, utilising these local ingredients in our products now and in the future."
The new range includes:
Protech Instant Hand Sanitiser with Tea Tree Oil 60ml 6 pack – Kills 99.9% germs. RRP: 60ml, $27.99
Protech Instant Hand Sanitiser 50ml, 60ml + 500ml – Kills 99.9% germs. RRP: 50ml, $3.79, 60ml, $3.99, 500ml, $11.99
Protech Protective Latex Gloves – Available in small and medium. RRP: $5.99 for a 3 pack.
Protech Disposable Face Masks. RRP: $14.99 for a 6 pack.
Protech Antibacterial Soap 100g – Kills 99.9% germs. RRP: $3.49
For further information, go to chemcorp.com.au