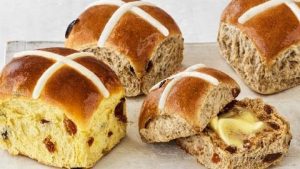 Woolworths is ringing in 2021 with something extra sweet!
Alongside the traditional hot cross buns, the Woolworths Bakery team have also been working to create new flavours and varieties to add to the mix this year.
New flavours are available in four-packs for $3.50 each. The flavours include Mocha with Cadbury Gold Dark Chocolate Chips, and Apple and Cinnamon with 100% Australian-sourced Pink Lady apples.
"After a tough year, the introduction of our new hot cross bun range is perfectly timed to help customers ring in the new year, and starts the countdown to 2021 Easter celebrations," says Woolworths Director of Buying, Paul Harker.
"We've created a range that meets the varied tastes of our customers. Combining the best ingredients, including locally sourced Pink Lady apples and the nostalgic flavour of much-loved Cadbury's Old Gold, our hot cross buns are also bringing something new to the table."
Mark and Jackie Paganoni are third generation farmers and supply the Pink Lady Apples from Moorooduc, Victoria for the new apple and cinnamon hot cross buns.
"As a grower of Pink Lady Apples, we're excited to show the versatility of our much-loved fruit and help put a new spin on a classic treat like a hot cross bun," says Mark & Jackie.
Woolworths predicts that more than 77 million hot cross buns will be hopping off the shelves in the lead up to Easter.
The range also meets certain dietary requirements, by including Free From gluten-free four packs, available in fruitless, fruit and chocolate varieties for $4.50.
Woolworths Hot Cross Buns are available in store or online at woolworths.com.au.