Kellogg Australia has revamped its Nutri-Grain range, keeping the same "much-loved" flavours but with added fibre and less sodium and sugar.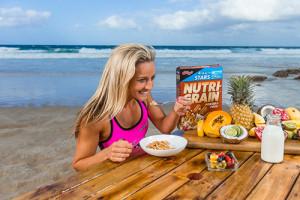 With its new recipe, Nutri-Grain Original receives a Health Star Rating of four, and its introduction is in line with Kellogg's vision to keep looking for ways to improve its products by giving consumers more of what they want and less of what they don't.
Kellogg Australia Director of Innovation Tamara Howe says the team has been developing the new recipe for the past 18 months and the greatest challenge has been to perfect the balance of taste and nutrition that Nutri-Grain has won so many fans with.
"Revamping one of Australia's favourite cereals was a huge task," she said. "We trialled many different recipes because we knew we had to get it right for Nutri-Grain fans."
She said the new recipe "not only tastes delicious, it's now a source of fibre, and has less sodium and sugar".
"We'd love for people to try it and tell us what they think on the Nutri-Grain Facebook page," Ms Howe said.
The improved Nutri-Grain Original joins the recently launched Nutri-Grain Edge Oat Clusters, a new range of chunky clusters made with oats, wheat and nuts in the flavours of Malt, Peanuts & Cashews, Tropical Blend & Caramelised Peanuts, and Cocoa, Caramelised Peanuts & Almonds.
Launched last month, the new Nutri-Grain Edge Oat Clusters product has also earned a Health Star Rating of four. The revamped Nutri-Grain Original will be available on-shelf from Monday, October 19 with an RRP of $4.59 for 290g and $7.99 for 805g.