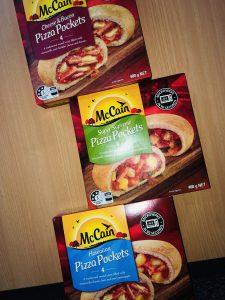 I assumed that with the end of my university days came the end of 2-minute noodles, and quick frozen meals – what a wrong call that was.
A little while ago Retail World published Play pong for McCain's new pizza pockets in celebration for their two new flavours: Hawaiian and Super Supreme.
Excitement filled the office with the thought of pizza pockets as it brought back a sense of nostalgia for everyone, which made me realize that I wasn't alone in always looking for 'easy-to-cook' convenient foods.
In fact one morning I caught my co-workers eating the pizza pockets for breakfast.
Does that prove that hot pockets are acceptable for any meal at any time of day? Or that my colleagues conveniently all forgot to eat their breakfast that morning?
Either way, the fact that it only takes 1.5 minutes to cook in a microwave, makes it dangerously easy to have, especially if you're short on time.
Old school is in

"Many young Australians would view McCain Pizza Pockets with some nostalgia as a tuck shop staple from their time in primary school," says McCain's Foods ANZ Pizza Brand Manager, Alice Briant.
100% in that boat! Friday mornings with a pizza pocket and chocolate milk from the tuckshop, was my life.
McCain's are not the only ones that have caught onto the nostalgia trend that many consumers are seeking.
The confectionery and snacks category are currently being redefined with old school twists that tug on the heartstrings and memories of shoppers.
Nostalgia is a key word that keeps coming up in our conversations with brand managers, and is a trend I predict will stay for a little while longer.
Make sure you're subscribed to Retail World magazine, to stay up to date on all the latest trends, and key drivers of the food and beverage industry.