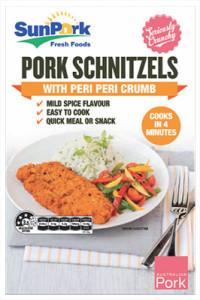 SunPork Fresh Foods' Pork Schnitzel with Peri Peri Crumb combines a mildly spicy flavour with crunchy schnitzels made from 100 per cent Australian pork seasoned with tangy crumbs that can be cooked in four minutes.
SunPork Fresh Foods Marketing Manager Mary-Jane Knudsen says schnitzels have long been a crowd pleaser.
"It's often a favourite in restaurants and we want to help people create that restaurant experience in their own homes," she said. "Schnitzels can be a bit fiddly to make, so we've done the hard work so our customers can enjoy a 'schnitty' night at home."
Sold through Woolworths, SunPork is continuing to add to its range of pre-prepared products and has launched Pork Roast in Chinese BBQ sauce.
"The pork only takes about 30 minutes in the oven [depending on weight], and the result is a fantastic, full-flavoured take on this traditional favourite that usually requires hours of preparation and slow cooking," Ms Knudsen said.
RRP: Pork Schnitzel with Peri Peri Crumb, $19.99 per kilo, BBQ Pork, $20.99 per kilo.
Website: www.sunporkfreshfoods.com.au.