Exclusive contracts with two shopping centre groups will increase oOh!media's retail out-of-home (OOH) media offering in centres where the supermarket is the main drawcard by a further 26.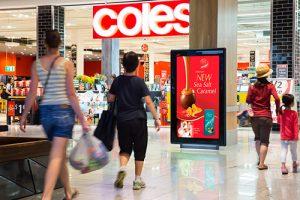 The two contracts give oOh! long-term rights to advertising in 20 centres co-owned by ISPT and the Coles Group Property, where Coles is also the major tenant, as well as six shopping centres in metropolitan and regional NSW and Queensland managed by McConaghy Retail Pty Ltd and owned by McConaghy Properties Pty Ltd where supermarkets are the major tenants.
Commercial Director of oOh! Retail Blair Hamilford said by increasing oOh!'s supermarket coverage with these contract wins, oOh! would provide FMCG advertisers with greater access to target and influence grocery buyers.
"This is a lucrative opportunity for advertisers, as research by The Leading Edge demonstrates oOh!'s retail assets have the highest return on investment of all OOH media and this is particularly pertinent for brands within the FMCG category who want to influence grocery buyers close to the point of purchase," he said.
"Grocery buyers are heavily influenced by advertising on our network. We know that retail media both on the path to and at the point of purchase not only gets noticed, but gets results – and these additional new centres boosts our supermarket presence."
A recent oOh! Retail campaign for Lindt demonstrated that a media campaign just prior to the point of purchase changed shoppers' perception of Lindt to being an everyday brand (up 134 per cent). The study also found that the medium drove sales for the new Lindt variant by 5.7 times and delivered a 10 per cent incremental increase in sales, compared to the campaign running on TV alone.