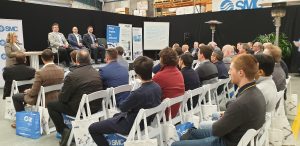 Open IIoT hosted a Demonstration Day this week in Victoria as an open platform to discuss the practical implementation of Industry 4.0.
This was the first event in a series of panel discussions with events taking place in Sydney and Brisbane on 15 October and 7 November respectively.
Jim Wallace, Sales Manager at Balluff Australia & New Zealand, who was one of the panellists for Open IIoT at the event says that the guest attendance is proof that more information is still needed.
"We had a large number of guests and the session was engaging and informative," he said.
"There are still so many questions around the topic of IIoT implementation and a session such as this one forces us to explore, be inquisitive and openly address common issues and concerns."
Open IIoT's demo model
According to Open IIoT, guests enjoyed a walkthrough of the Open IIoT demo model. This demo model combines technologies by panellists, Nord Drivesystems, SMC Corporation, Universal Robots, Beckhoff, Balluff and ZI-Argus.
"It offers a real-life demonstration of various IIoT technologies working together and how these can best be integrated," Mr Wallace said.
"It's the ideal opportunity to learn more about adding smarts to your machine for improved measurability. These measurables help with forward planning, are easy-to-use and customisable."
A need for more information
With their combined knowledge and expertise on Industry 4.0, Open IIoT's panel believes that there is still a need for more information to make informed purchasing decisions and to help customers get started on the Industry 4.0 journey.
"By combining forces, Open IIoT has access to a wealth information and resources," Mr Wallace said.
"These can be used to benefit and arm customers with the competitive advantage needed to succeed.
"It might seem repetitive but there is still so little sharing taking place out there. It's up to us to create platforms such as this in which like-minded people can interact and ask questions."
Key outcomes
One of the key take-aways from this week's session, says Mr Wallace, was to start small.
"Don't be daunted by the size of a project," he said.
"Rather break it into achievable goals and use your first application as a steppingstone and lessons learn for the rest of the roll out."