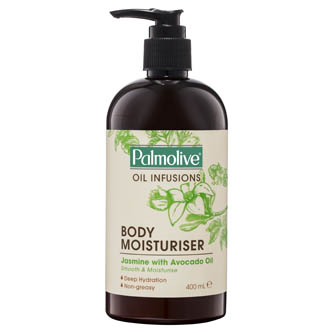 Palmolive has launched into the Australian body-moisturiser category with its new Oil Infusions Body Moisturiser range.
Palmolive says the range, inspired by the essential-oils trend exploding in health and beauty, is enriched with an infusion of essential oils and botanical extracts including avocado oil, jojoba oil, jasmine extract, macadamia oil, rose oil and citrus oils.
In research commissioned by Palmolive Australia, 89 per cent of women interviewed said parts of their body should be moisturised more regularly.
"It's so important in life to find little moments in the day to reward, refresh and nourish your body and mind," stylist Jules Sebastian said.
"Palmolive Oil Infusions Body Moisturiser smells amazing and is the perfect little bathroom companion for the full-body moisturising experience."
The range is available in Jasmine with Avocado Oil – Smooth & Moisturise, Citrus with Jojoba Oil – Stimulate & Rejuvenate, and Rose with Macadamia Oil – Uplift & Repair.
The products are part of the skin care range comprising Palmolive Oil Infusions Body Moisturiser (RRP: 400ml, $9.99, 200ml, $5.99), Body Wash (500m, $8.99), Liquid Hand Wash (500ml $7.99) and Body Bar (125g, $1.99).