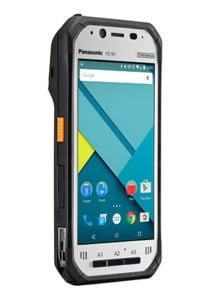 Panasonic says Toughpad FZ-N1 combines the productivity benefits of a mobile barcode reader, phone and tablet into one fully 'ruggedised' device.

According to Panasonic, the Toughpad FZ-N1 is ideal for markets such as transportation and logistics, manufacturing and retail. It is also well suited for a wide variety of applications, such as inventory management, shipping and receiving, delivery routing and parcel tracking, and retail-store-queue busting.
The Toughpad FZ-N1 is designed to meet the increasing demands placed on workers by boosting productivity, while guarding against any impact on employees' health. According to the Australian Bureau of Statistics, about one-third of workplace injuries in Australia are sprains or strains.
"The FZ-N1's ergonomic angled barcode reader has been created for ease of use and has the potential to increase efficiency and at the same time provide greater comfort for workers," Panasonic Toughbook Senior Product Manager Stuart Buxton said. "We're in fact seeing 'ruggedised' devices slashing field failure rates, raising productivity and lowering total costs of ownership compared with other commercial-grade devices by over 15 per cent a year."
Toughpad FZ-N1's purpose-built features include full outdoor functionality, Android Lollipop operating system, 4G-phone connectivity, military-certified toughness, warm swappable battery, and versatile optional accessories.
"Many handheld computer solutions in the market today are using an antiquated OS, are vastly underpowered, and are larger and heavier than they need to be," Mr Buxton said. "The Toughpad FZ-N1 gives companies looking for an up-to-date, powerful, flexible and purpose-built solution – an excellent option that will improve efficiency, productivity and bottom-line performance for years to come."