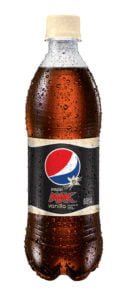 PepsiCo has introduced a new vanilla flavour to its Pepsi Max range and it is now available in supermarkets and other retailers.
"Pepsi Max Vanilla represents our ambition to deliver flavour experiences without sugar to the cola category, and we're confident that our version of vanilla will be a huge hit with Australian consumers," PepsiCo Senior Director ANZ Beverages and Pepsi Max Brad Van Dijk said.
A marketing campaign will be launched at the end of February and will include TV commercials, digital, out-of-home, in-store, social and consumer activations.
The new variant follows the launch of Pepsi Max Lime last year.