IGA has launched a dedicated pet program to help shoppers celebrate their four-legged companions.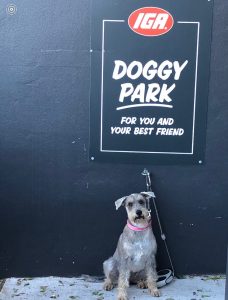 The IGA Pet Corner will feature free gifts for pets on their birthday, exclusive promotions and tips to keep pets healthy for members. Plus, participating IGA stores now have designated 'Doggy Parking' areas where dogs can wait for their owners to complete quick shops.
"As part of the IGA Locals Matter Community Program, we launched the Locals Matter Pet Corner as pets are an important part of the community," a spokesperson for IGA said.
"It will be the destination for amazing content and promotions for pet owners, and members will receive exclusive goodies, competitions/giveaways and great content thanks to our partner, Purina."
Anyone can head to the IGA Locals Matter website and join: www.iga.com.au/community/pet-corner/join.
On the month of your pet's birthday, your furry friend will get a free cat or dog Purina treat voucher via email which can be redeemed at a participating IGA store.
The cast majority of IGA's 1300 independently owned stores across the country will participate in the program.
Man's best friend
Research shows pet ownership has soared globally during the pandemic with almost 90% of pet owners saying their pets have a very positive impact on their lives. Stats also show there are now more households with a pet (61%) than with kids (35%).
In the lead up to International Dog Day (August 26), IGA commissioned its own research. It found:
1 in 4 Aussies purchase their furry friend a present on their birthday
Over 1 in 3 of those spend up to $5000 on their pets every year
The research also found Gen Z (18%) and Baby Boomers (21%) are the generations most likely to buy their pet(s) a present on their birthday. Women (53%) are narrowly more likely than men (47%) to buy their pet(s) a present.
When it comes to spending on pets, more than 1 in 2 males (54%) spend over $5000 on their pet(s) each year, with Gen X (35-44) the most likely to do so. However, 1 in 5 Millennials (20%) spend under $500 on their pet(s) each year.