Woolworths' Fresh magazine's readership has reached five million, according to the latest EMMA Print Audience Report.
The report measures the average issue readership of magazines between June 2018 and May 2019. It shows Fresh to be one of the top read magazines in Australia, ahead of Coles Magazine with a reported 4,368,000 readers.
The magazine
The magazine is seen to provide recipe tips and ideas, aiming to solve everyday food predicaments such as the nightly, 'what's for dinner?', dilemma.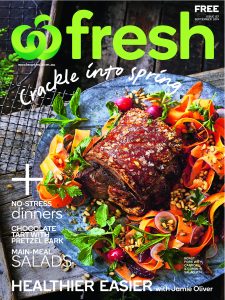 Woolworths Fresh magazine manager, Nick Harper says that the magazine's objective is to inspire readers to try something new and 'fresh', and to get more from each shop at Woolworths.
"Our readers can also learn about the latest food trends and how you can hack fantastic food products that are available in the supermarket and make the dish your very own," he added.
Upcoming issue
The magazine is available free at Woolworths stores nationally.
The September issue will be available in stores across Australia from Wednesday August 28 and is expected to feature light and fresh flavours of spring.