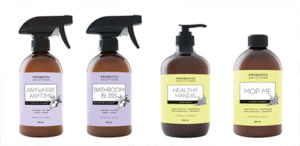 Australia's only certified organic cleaning products brand, Probiotic Solutions claims that Australians are putting their health at risk by using popular cleaning products and should switch to probiotic bacteria-cleaning products.
The average Australian home consists of 8,000 different types of bacteria, but regular cleaners kill 99.9 per cent of bacteria, including the helpful ones. Utilising probiotic technology, this Australian-made and owned product applies a barrier of beneficial bacteria that neutralises harmful bacteria within the home, making families less susceptible to infection and disease.
"When most people think of bacteria they automatically think of germs and infection, but not all bacteria are bad," Probiotic Solutions founder and Director Michelle Perkins said.
"Just like probiotic drinks and tablets that keep your stomach healthy, Probiotic Solutions keeps cleaning long after it's applied, encouraging healthy bacteria in your home so bad bacteria cannot flourish and put you and your family's health at risk."
Probiotic Solutions is naturally formulated using bio-ingredients, including antioxidants, vitamins and other beneficial compounds along with non-synthetic essential oils. These chemical-free products are family and kid-friendly and promote good health, including for pets. The range comprises Anywhere Anytime, an all-purpose spray, Bathroom Bliss, to tackle wet areas and discourage mould, Mop Me, a highly-concentrated floor cleaner, and Healthy Hands, a non-allergic and synthetic-free hand wash.