Plastic pollution is one of the earth's biggest problems with 6.3 billion tons of plastic waste in our planet.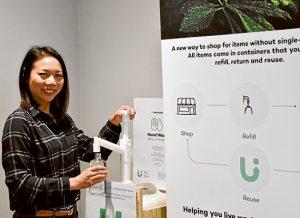 "It takes 5 seconds to make a plastic bottle, 5 minutes to consume its contents and 500 years to degrade in landfill," says founder of Unpackaged Eco, Irene Chen.
"We started Unpackaged to do exactly that – to unpackage product, cut out single-use plastic and refill our way to a cleaner planet."
So far the business has helped to save nearly 8,000 bottles from landfill, partnering with 18 independent supermarkets around Victoria to refill for good.
Each of the stores involved have been fitted out with neat looking refill stations, supplying planet-friendly cleaning products – dish liquid, handwash, multi-cleaner, disinfectants, hand sanitiser and laundry liquid – that are Unpackaged Eco's own.
How does it work?
One in every two Unpackaged customers have been opting to refill.
"Our system has been designed to enable an easy check-out process for supermarkets," says Ms Chen.
"…first-time customers purchase a pre-filled bottle and checkout as per normal. Returning customers bring back their empty bottle to the shop, refill it themselves at a station and peel off the barcode to scan the refill barcode underneath."
The added bonus? Customers get to save anywhere from 30% to 50% off the initial price by choosing to refill.
"The goal for us is to make this refill service accessible to every household in Australia, so we are inviting local retailers in every state to join us in helping to make this possible," concludes Ms Chen.